Bazi Profile | What is Your Leadership Style And How Does It Impact the Way You Lead?
"You don't learn to walk by following rules. You learn by doing, and by falling over."
-Richard Branson
I was pleasantly surprised when two successful entrepreneurs whom I have been inspired by, were both invited to speak at the same conference in Vietnam recently, to a crowd that was 7,000 strong[2]. One of them was well known for being one of Britain's highest profile billionaires, Sir Richard Branson. He built his affluence through a conglomerate of businesses bearing the Virgin brand. Today, Virgin Group holds more than 200 companies in more than 30 countries. This is not surprising because with a Main Bazi Profile of the Performer[1], it signifies that Sir Branson is someone who aims to inspire others to take action and strive towards objectives whilst creating a group identity. As quoted in his article[2], for his Vietnam visit, his first port of call was a speaking engagement to help inspire Vietnam's rapidly growing youthful entrepreneur market. The reason being, he enjoys giving these talks all over the world to encourage the spread of entrepreneurship, and to raise money to support good causes through Virgin Unite. For the Performer[1] profile, their key path to wealth is to brand and be the star in their field.
The other successful entrepreneur who inspired me is Dato' Joey Yap. Though considered young – age wise (born in 1977) in the 2000-year-old field of metaphysical study practitioners, Dato' Joey is innovative. He collated the information for this ancient study and kept it updated, introducing applications such as the Joey Yap Bazi Profiling System[1] which I have found to be extremely useful (for modern applications in individual career and leadership development, and corporate team building for my work as a consultant, advisor and trainer). He has achieved many firsts, including the following:
Achieved bestselling author status with over 100 books on Feng Shui, Chinese Astrology (BaZi),Face Reading and Yi Jing, which has sold more than three million copies to-date.
At the age of 26, he raked in his first million doing what he loved most[3]
In 2008, Yap was listed in The Malaysian Tatler as the Top 300 Most Influential People in Malaysia and Prestige's Top 40 Under 40[4,5,6].
In 2010, he was invited to share his Ancient Eastern 'energy' practices and meets Western Science with Dr Fred Alan Wolf (a quantum physicist, lecturer and writer of the National Book Award-winning, 'Taking the Quantum Leap') in San Francisco[7].
He was also an invited speaker at the prestigious CEO Space[8] Las Vegas in 2011, where top CEOs and successful entrepreneurs worldwide converged to learn from the best of the best.
This is not surprising with his Main Bazi Profile as a Pioneer[1], where he is skilled at creating a need and formulating a good product to fulfill his primary mission of giving Chinese Metaphysics its due and bringing it to the world[9]. His focus has always been constant: developing, improving, and using Chinese Metaphysics to improve the lives of people. With a Pioneer Bazi Profile, he is more willing to take risks to explore new markets or ideas if these can drive the top line or revenue to greater heights.
Mr Warren Buffett, who belongs to the Philosopher[1] Bazi Profile, is known for his adherence to value investing and is adept at analysing financial statements and companies (a strength of the Philosopher profile). Through these analyses, he buys and invests in good companies and his wealth has been basically built through this route utilizing his company Berkshire Hathaway. With a Philosopher[1] profile, he is perceptive, open-minded, knowledgeable and independent. He will be hands-off when systems are in place. This is evident in how he handle companies that Berkshire Hathaway bought – once he feels that the existing team is doing its job well, he would leave the existing staff and management to run the companies.
While the subject of management and leadership is vast, in this article, I would like to focus on just the basics of leadership styles utilizing this long-standing system. Leadership commonly involves communication, decision making and change management. Each of the above famous personality has achieved success, fame and wealth utilizing their profile strengths and unique leadership style. In addition, as they are behaving in a manner that is aligned with their personality (that is, their intrinsic or natural talent); they are successful and happy in their work, career and business.
Would you like to find out your unique leadership style? If yes, please click on the links below where you can get the following personalized reports online:
Your Brief Career Profile Report – https://happyandsuccess.com/product/brief-career-profile-report
Your Career Suitability Report – https://happyandsuccess.com/product/career-suitability-report
Your Personalized Good Directions for Success – http://bazicalculator.janetyung.com/
With your unique Bazi Career profile, you can refer to the following table for snippets of your unique leadership style based on the 2000-year-old metaphysical study of Bazi.
To better understand the various profiles, I have classified the 5 key approaches of the profiles and attached the 10 profiles[1] along with their typical leadership style and their decision-making or communication pattern for your reference. (These are snippets from my upcoming book – Being Happy and Successful : Managing Yourself and Others.)
•Action-oriented – Director & Pioneer
•System-oriented – Diplomat & Warrior
•People-oriented – Friend & Leader
•Idea-oriented – Artist & Performer
•Analysis-oriented – Analyzer & Philosopher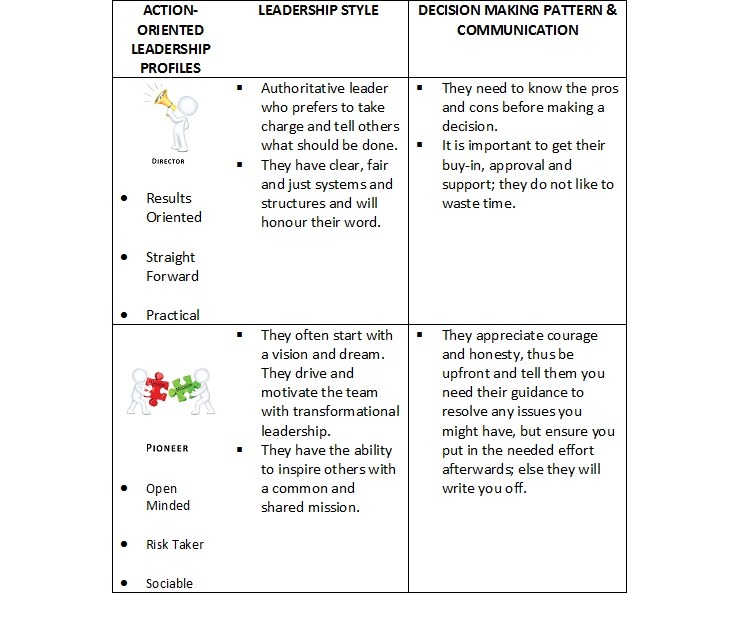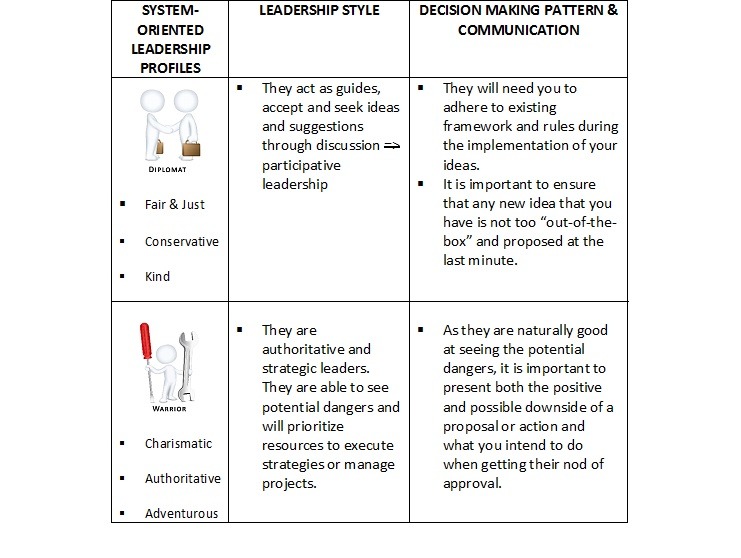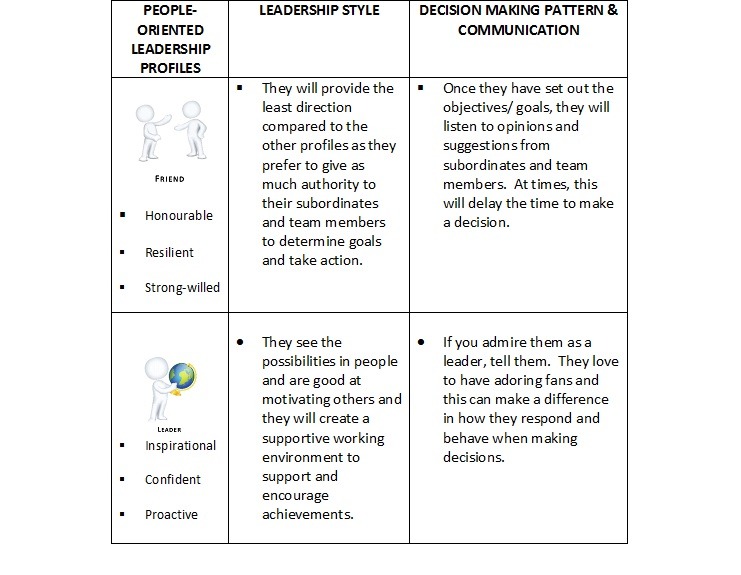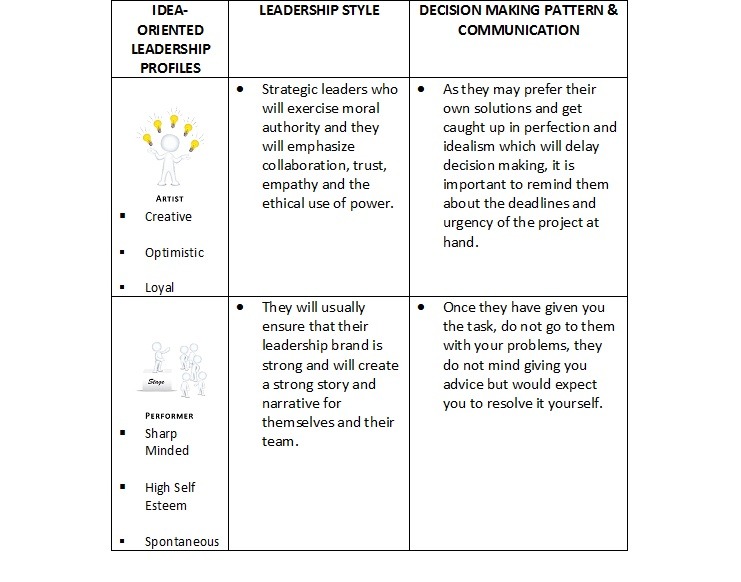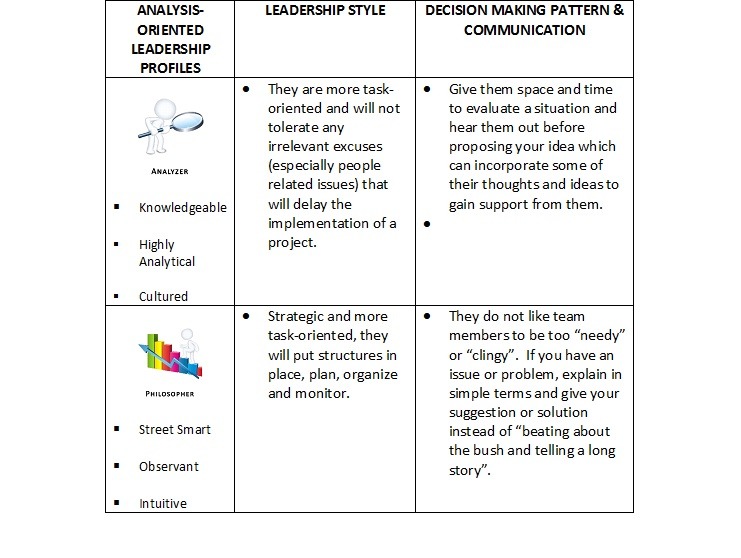 Below, you can see a sample of the Bazi Profile[1] chart which shows an individual's inherent characteristics, talent and potential. This basic chart will not change but the percentage scores of the profile will change depending on the individual's life experiences and skills that they pick up along the way.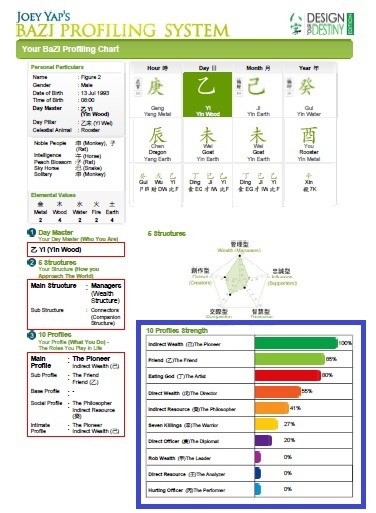 As seen from the person's Profile chart on the previous page, it showed that even though the person has a Main Profile which defines his most obvious leadership style and success path, the blue box at the right bottom corner also showed that there are various other profiles besides a person's Main profile with various percentages listed next to them. These profiles highlight what the individual's leadership strengths and inherent talent are, as well as the possible weaknesses and blind side which the leader must be aware of.
Janet Yung (amazon.com/author/janetyung)
Feng Shui and Bazi Consultant. Author. Harmony Adviser.
References:
[1]Terms utilized from Joey Yap's Bazi Profiling System.
[2]Brandson, S.R. (2015). Visiting Vietnam and revisiting my past. Retrieved on 22 September, 2015 from http://www.virgin.com/richard-branson/visiting-vietnam-and- revisiting-my-past
[3]Lim, Y. (2012). Millionaires' secret to success. Retrieved on 22 September, 2015 from http://www.thestar.com.my/story.aspx? file=%2f2012%2f8%2f18%2fnation%2f11879797
[4]Business Media International. (2013). SME CEO Forum 2013. Retrieved on 22 September, 2015 from http://smemagazine.asia/ smeceoforum/2013/joeyyap.html
[5]Malaysian Tatler. (2008). Malaysian Tatler's Most Influential People in Malaysia. Retrieved on 22 September, 2015 from http://www.masteryacademy.com/academy/MalaysiaTatlerSoc iety2009Jan.asp?iframe=academic_media
[6]Prestige Malaysia's Top 40 Under 40. (2008). Lucky strike. Retrieved on 22 September, 2015 from http://www.masteryacademy. com/academy/Prestige_Sep2008.asp?iframe=academic_media
[7]Sasha Lee Consultants. (2010). The Science Behind Success' with Dr. Fred Alan Wolf and Joey Yap. . Retrieved on 22 September, 2015 from http://www.sashaleeconsultants.com/work/case_studies.aspx?v=1& c=4&cs=17
[8]Lee, S. (2011). 'A Winner's Mindset' at CEO Space, Las Vegas. Retrieved on 22 September, 2015 from http://sashaleeconsultants.wordpress.com/ tag/ceo-space/
[9]Wikinbin. Joey Yap . Retrieved on 22 September, 2015 from http://wikibin.org/articles/joey-yap.html, Wikibin's Profile